Manufactured using
CERTIFIED components.
FACTORY DIRECT SAVINGS
Save Over 50% Today!
LIFETIME WARRANTY
On Tanks & Valves*
SATISFACTION GUARANTEED
6 Month Money-Back!*
How does Each Systems Work?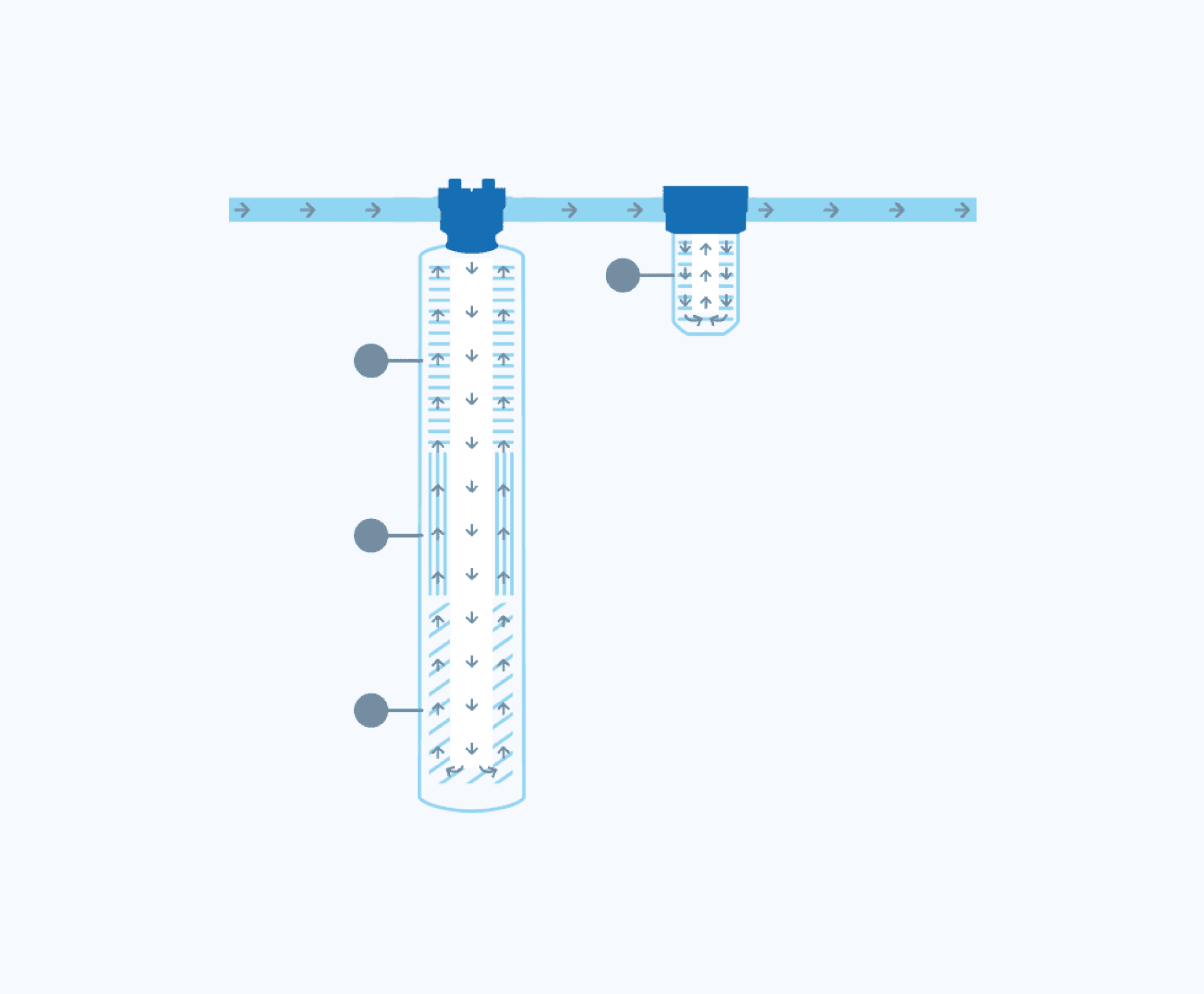 Whole house carbon filter
SpringWell's 1,000,000 gallon whole house water filter is the perfect solution for removing those harmful contaminants found in our city's municipal water. Our system uses the highest quality catalytic carbon and certified kdf media to target and remove harmful contaminants like chlorine, chloramine, PFOA, PFAS PFOS, pesticides, herbicides, haloacetic acids and more.
Stage 1 pushes the water through a KDF media which removes harmful chemicals such as chlorine, as well as addresses many of the contaminants found in municipal water. Stage 2 was designed using a catalytic carbon media which removes organic contaminants including chlorine, chloramine, VOCs, pesticides and herbicides to name a few. Last but not least, stage 3 includes our innovative design created to eliminate channeling while producing more contact time. In stage 4, sand, silt, clay, and other sediment are filtered through our 5 micron sediment filter. 
Drink some of the best water in the world and know Springwell uses certified components in all our systems giving your filtration system optimum performance with reliability and durability.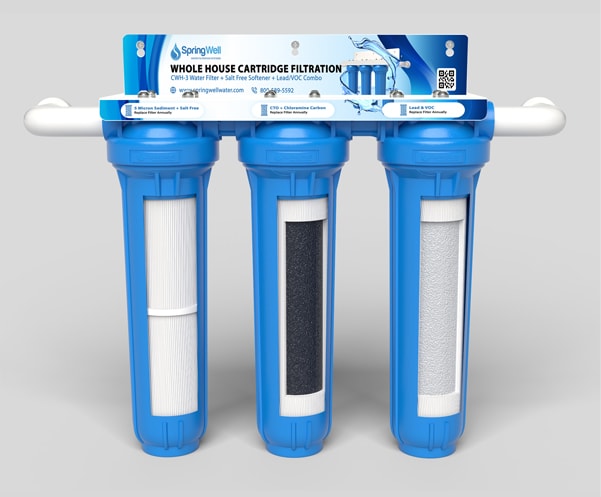 Whole house cartridge filter
Our state of the art whole house cartridge system is an incredible alternative to the standard whole house carbon filtration system if you are tight on budget, short on space, or only plan on staying in your home for less than 4 years.  Our cartridge filtration systems are designed and built using state of the art certified components and filtration. 
We offer three low priced cartridge filtration systems  that plumb directly into your main water line coming into your home.  The system pushes the contaminated water through individual filter cartridges built specifically to remove the harmful contaminants in your water.  Each system we offer is designed to address the common contaminants and issues we deal with in our municipal water and with our salt free options, you'll reduce scale build up on your appliances, faucets, fixtures and dishes.
Whether it's chlorine, chloramine, pesticides, Lead, VOCs, and more, feel confident knowing with our whole house cartridge filter system, that every faucet, fixture, and appliance is getting good clean water
Here's What Both Systems Remove
Removes Harmful Contaminants
Our whole house water filter systems grant you absolute control by removing/reducing the most while retaining the best, giving you multiple lines of defense against these contaminants:
Breakdown in Cost & Maintenance Over 10 years
If you're in the market to purchase a system, but not sure which system is right for you, let us break the cost down annually and help you decide.
ANNUAL REPLACEMENT FILTER COSTS
TOTAL COST OF SYSTEM OVER 4 YEARS
TOTAL COST OF SYSTEM OVER 10 YEARS
FILTER MEDIA/CARTRIDGE LIFE
WHICH SYSTEM IS BEST FOR?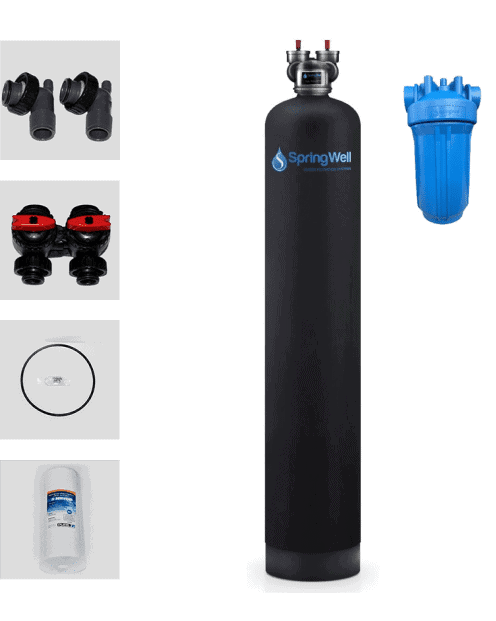 BEST SYSTEM FOR LONG TERM
Frequently
Asked Questions
What are the replacement filter costs and how often do you need to replace them?

The system overall is extremely low maintenance. You will need to replace the 5 micron pre-filter (inside blue canister) every 6 to 9 months. We sell a 2 pack of pre-filters for $39.95 which includes two sediment filters with o-rings and lube.

Will the whole house water filter system reduce the water pressure in my home?

Each water filtration system is built to ensure you have no drop in water pressure. We build the systems based on the amount of full bathrooms you have in your home. If you have 1-3 full bathrooms then selecting our 1-3 bathroom drop down will give you a flow rate of 9 GPM while our 4-6 bathroom unit will give you 12 GPM and 7+ giving you 17 GPM. Be sure when comparing our whole house water systems to others that you ensure that you have at the very least 9 GPM flow rate or you may experience drop in water pressure in your home.

What GPM will each system have and which should I choose?

We've built our whole house water filtration systems for high quality water flow so you receive no drop in water pressure.  Below are the specifics of our GPM:

CF1 (1-3 Bathrooms) – 9 GPM
CF4 (4-6 Bathrooms) – 12 GPM
CF+ (7+ Bathrooms) – 17 GPM

CWH-1 - 20 GPM
CWH-2 - 20 GPM
CWH-3 - 20 GPM

Is this water filter good for a home on a private well?

If your private well water causes brown/orange staining or your water smells like rotten eggs, then you should consider installing our whole house well system. This system is ideal for wells in that it will remove iron, sulfur and manganese.
System Specifications Compared
If your goal is to own a more compact system, something that will fit in a storage closet or a small space in your basement or garage, then the whole house cartridge system is for you. Not only is it small, but it's powerful and will give you up to 20 GPM, meaning you will have no drop in water pressure!
HOW OFTEN TO REPLACE FILTERS
HOW MUCH WATER PRESSURE (GPM)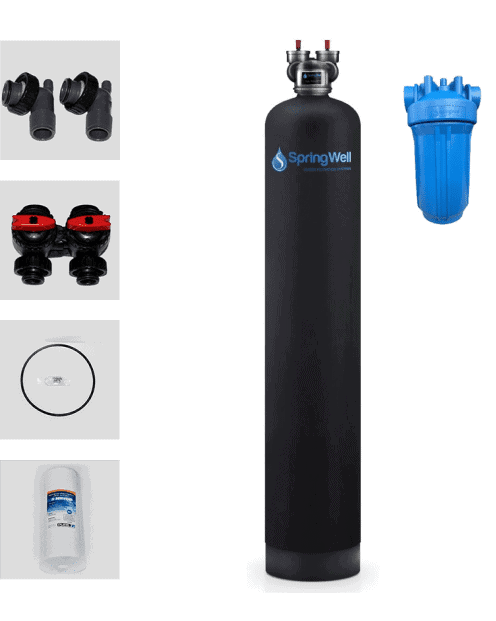 carbon
52″ (H) x 30″ (W) x 15″ (D)
9-20 GPM DEPENDING ON SYSTEM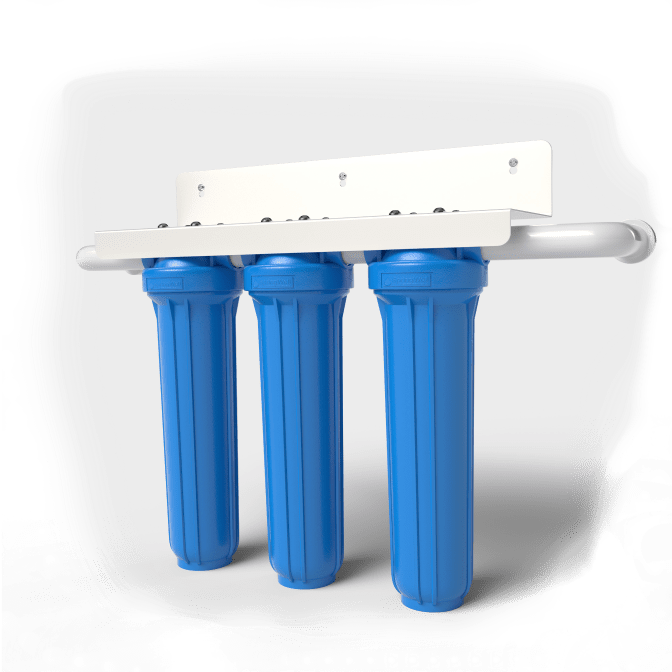 cartridge
Size – 24″ (H) x 15.5″ (W) x 9″ (D)
16-20 GPM DEPENDING ON SYSTEM
Overall Benefits of a Whole House System
Remove Harmful Contaminants
Both whole house water filter systems grant you absolute control by removing the most while retaining the best, giving you multiple lines of defense against harmful contaminants found in your city water!
Better Tasting Water
Great tasting water at every tap. Get clean, healthy, great tasting water by filtering out up to 99.6% of chlorine and other contaminants that cause bad taste and odors. Using our whole house water filtration system ensures you'll be drinking better than bottled water straight from your tap.
Softer Skin & Healthier Hair
Have you ever gotten out of the pool and realized your skin and hair feel super dry?  Our whole house water filtration systems remove chlorine, chloramine, and other harmful contaminants giving you better/healthier skin and hair.
Cleaner Water Gives You Better Cooking
Studies show cleaner water used while cooking, results in stronger flavors and a more pure taste for all ingredients.
No Drop in Water Pressure
Both of our whole house water filtration system and cartridge system offer you industry leading water pressure. We offer systems that can handle up to 7+ bathrooms.
Brighter Long Lasting Clothes
Chlorine in your water is known to cause clothes to fade and deteriorate the fabric over time. Install a whole house filtration system and say goodbye to chlorine!
Installation & What's Included
Whole House Carbon Filter System (CF1 & CF4)
O-Ring for Sediment Filter Housing
Whole House Cartridge System (CWH-1)
Mounting Bracket & Hardware
Which Product is Right for You?
So many companies offer only one solution.  At Springwell, we know not one system fits everyone's needs, so we're offering two types of systems that give you good clean water. 
Which one is right for you?  You decide… because there is no wrong choice!
BEST LONG TERM SYSTEM! If you're looking for a system for life, this system will cost less money in the long run.
BETTER PERFORMANCE WITH LESS DROP!  The system's media slowly drops in performance after 1M gallons where as the Cartridge system experiences drop in performance annually.
USES ACTIV-FLO TECHNOLOGY! Our Activ-Flo technology gives your water longer contact time with the media to prevent channeling.
LESS EXPENSIVE UP FRONT!

If you're planning on staying in your home for less than 4 years, this is the system for you.

TAKES UP LESS SPACE!

The system is less than half the size of the standard whole house system.

REDUCES LEAD & VOCS!

Our CWH-3 system offers a .5 micron filter that removes/reduces Lead and VOCs which is commonly found in municipal water.